It's kitten season! Have you ever thought about getting a cat—maybe one cat? I can make a good case for getting two cats, and keeping siblings together. Years ago I didn't think this mattered much. I thought, cats are cats—they're adaptable, flexible, able to take care of themselves. Today, very little that I believed a few years ago is true. I live with cats—seven cats, two of the seven are siblings, and it has been a belief / myth shattering experience. Are two cats a lot more work than just one cat? Let's find out!
A Case for Two
Two cats are optimal if there's a dog(s), or older cat(s) already established in the home.
With another buddy, the new kitten will not feel ganged up on, or alone as the older pet checks them out, or challenges them for home territory.
Having a familiar buddy is comforting.
The older pet can watch the two newbies play together, and interact as they please.
It's as easy to feed and prepare a litter box for two cats as one. Trust me—I have experience with this!
You will always be entertained.
One kitten could be destructive—they're bored, and looking for a project. That project may be taking down your drapes. It may be becoming a frequent pest as they nag, nag, nag the older pet to run and play with them.
If a kitten has a buddy, they play amongst themselves. There is less seeking of entertainment from home items.
Kittens learn quicker by demonstration from each other.
Especially if you work outside the home all day or travel, two cats are company for each other. Please don't get only one cat! Click

HERE

to listen to an intuitive conversation Polly Klein, of Tonglen Healing Arts for Animals, had with our cat TillySue. In TillySue's first home she was an only cat to someone never home. She was bored, so she slipped out of a window, got chased by a dog, and lost her way back home. The main point Cat TillySue relates to Polly is that she was bored and lonely.
Size can be an issue. Think about being tiny, and having a bigger dog or cat approach you—it's terrifying, a same-size buddy brings comfort and team work.
Food Efficiency. In my experience, one cat eats a half can of food in the morning. The can is then put in the refrigerator to wait for the evening meal. But do you like cold left overs? Your cat probably doesn't, either. Two cats will use one full can in the morning, and one full can for the evening meal—less waste. Of course, I always supplement with a bit of dry food.
They can mitigate depression and sadness by giving their human purpose.
A Case for the Sibling
They have known each other since day one, so there's a lot of comfort.
Because they know each other's smell and habits, there will be very few spats for food or territory.
They will always be hugging each other, which is sweet to watch.
Many times they mirror each others behavior—when one eats or drinks, so does the other. When one tinkles in the litter box, so does the other.
There's something magical about keeping two siblings together.
This also applies to a bonded pair from a shelter. They may not be birth siblings, but they are bonded. If you're at an adoption place, always ask if the cat you're considering is bonded to another, and if possible Don't Leave The Other Behind.
I asked a few friends with siblings to share their thoughts
Thelma & Louise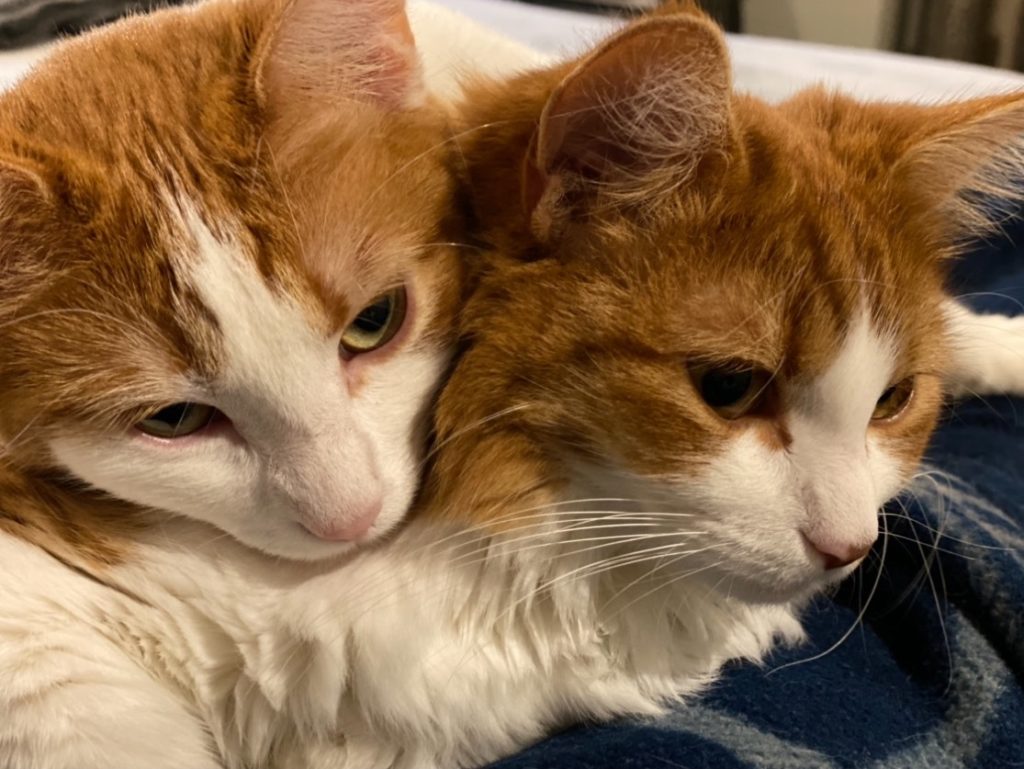 "They were two tiny, straggly, flea infested babies with bacterial infections. One was so small she didn't even register on the Vet's scales. The other weighed barely a pound.
It had not been in my plan to keep one, much less both of them. I was simply to be the temporary foster Mom intent on keeping them alive and nursing them to health and then sending them on to a permanent home. But, Thelma and Louise had a different plan for me.
Within 24 hours of bonding through caring and nurturing these two tiny blessings my heart was permanently tied to them and my life was changed in only positive ways. These two miniscule creatures needed me and they needed each other. And as it turns out, I needed them as much as they needed me.
They love and comfort each other. I am the third party beneficiary of all of their sweetness and have the good fortune to have a front row seat to the nonstop entertainment they provide. I cannot begin to imagine how lost one would be without the other. The void would be unfillable. I can no longer imagine my life without them. The void in my world would be nothing less than unbearable.
Once you have witnessed and experienced such sibling love you realize you can't have the Yin without the Yang. There would be no "Thelma" without a "Louise". My heart overflows with the blessings these two have brought me and the lessons I have learned from them. What little I did to save those tiny babies pales in comparison to the joys and love they bring to me each and every day."
Lauren Parish about her two cats, Thelma and Louise. Follow them on Instagram at, https://www.instagram.com/thelmaandlouisetaleof2kitties
Annie & Travis of Mobile, Alabama
"When I decided to adopt these two siblings, for starters, I only wanted one. I wanted the only little girl in the litter to add as a family member to my two senior female cats. I was advised to take the sibling brother she was bonded to since birth. Phebe also advised that there was a possibility the older, already bonded cats would pick on the new little one.
Taking these two was one of the best decisions in my life. Annie Kate and Travis Zack love each other. They feed off each others energy. Because they arrived together, they never felt alone in their new home. They thrived very well in their new home with their older sisters, and quickly accepted me as their new human Mommy.
I am totally in love with these two, and can't imagine not adopting them together."
Diana Forest of Mobile, Alabama speaking about her two cats, Annie and Travis.
The Sibling Photo Gallery
Here's a past blog post about my first cat, Simon—https://phebephillips.com/saved-by-a-cat/
The Latest Episode on The Literary Catcast Podcast
Phebe lives in Dallas, for now…until she moves deep into the piney woods of East Texas into her home named Murder Mittens Ridge. Murder mittens is "CatSpeak" for cats that have claws. She and Mac live with six cats. Phebe creates The Literary Catcast Podcast—dedicated to the preservation of vintage books and writings with cats as main characters, bringing their awareness into the modern form of a podcast.
"Remember, if given the opportunity, help the little things." ~Phebe